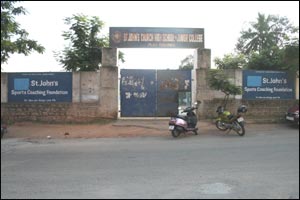 We all have a cricketer in us, says Neol Carr, one of the senior coaches at St. John's, "and its our pleasure to find him for you." And find them they did - from brutal terrorisers of the local galli bowlers, they turned the likes of V V S Laxman, Noel David, Daniel Manohar, Anup Pai (of India U19) and Abhinav Kumar (who played the U15 World Cup) into national level players.

Set in a ground with high walls and in an atmosphere of high spirits, cricket is a serious business here. The players are spoilt with the best of facilities and coaches who have all played at high levels of the game and are breaking the "fitness is optional" divide. 11 nets on 3 different surfaces each monitored by a separate coach, video analysis of technique, a bowling machine, a newly set-up gym and traditionally high standards are the perks enjoyed by a St. John's cricketer.

For the kids who want to be the next Laxman, talent has to be supported by guidance, technology and inculcation of the right attitude, and St. John's is certainly setting the field for an exciting innings for its players.
LEAVE A COMMENT
fullhyd.com has 700,000+ monthly visits. Tell Hyderabad what you feel about St John's Sports Coaching Foundation!