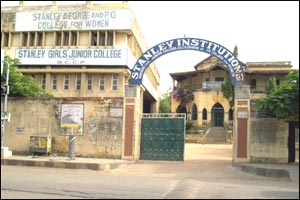 With girls sporting imitation jewelry a la Star Plus' and Soni TV's prima donnas and the local tailor's version of designer salwaars, pouring out, the Chapel Road does not need speed-breakers or policemen to slow down the traffic. Stanley Girls' High School, situated right in the heart of the city, takes the due credit.

While the campus has been upgraded to have Junior College, Degree and even PG facilities, the Stanley Girls' High School has already completed 109 years of its existence. When the Stanley Institution took birth in 1896, it found itself amidst the offsprings of the latest Nizams and their begums. Since then, turning over generations of Hyderabadis into real life has been the Stanley Educational Institute's forte.

The towering walls ensconcing the Girls' High School and the Junior College can give even the most imposing of the bastilles a complex. However, newer schools, half its age and wisdom, are dwarfing the premises of this once centrally acclaimed institution. A fact probably attributable to the proclaimed denial of acceptance of any donations by the authorities.

The school follows the SSC syllabus recognized by the AP government, and also imparts training in dance, crafts, drawing and music. There are frequent competitions on debate, elocution and poetry recitation, along with regular academics.

Not strictly insistent on rigorous sports activity, the Stanley Girls' High School is a comfortable, easy-paced place for your child. The admissions are not a big problem - a simple T/C and a bonafide will suffice, and government employees can enroll their children easily even in mid-term. A major requirement however is a knowledge of Telugu, which is compulsory up to class VIII.

Stanley Girls' High School will not conform to your modern day idea of quality education - which essentially includes elaborate parent-teacher and parent-child activities more than the actual class-work - but it is a no frills and low fee option for the rest of humanity.
EVENTS AT STANLEY GIRL'S HIGH SCHOOL
There are no events at Stanley Girl's High School scheduled currently.
LEAVE A COMMENT
fullhyd.com has 700,000+ monthly visits. Tell Hyderabad what you feel about Stanley Girl's High School!