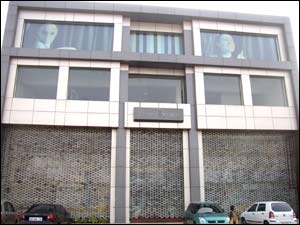 Getting to StudiOrion should be as easy - it has popular landmarks like the Jubilee Hills check post and the familiar Merc showroom around. Whiz through the Hitec City road from the check post, and you will find it on your left, beside the Mercedes Benz showroom.

Orion, according to Greek Mythology, is a giant hunter, pursuer of the Pleiades and lover of Eos, killed by Artemis. StudiOrion, no doubt, is a giant - the appearance is leviathan, with the slick glass front of the building enlivened by towering hoardings of lithe models. But as you enter the building, the stark realization unfolds... it's not as sprawling as the facade portrayed it to be. But then, hey, it's just a furnishing store, not indoor entertainment.

The ground floor comprises solely the curtains section. The range is motley, the quality stellar. The prices start from Rs. 150, and go up to Rs. 7,000 per meter. Ironically, however, for a home furnishings store, StudiOrion doesn't have a blinds section.

Upholstery, wallpaper, linen, area rugs, carpets and other furnishing accoutrements adorn the top floor. The wall paper range is really impressive, with reasonable prices. At Rs. 120 per foot, it's definitely a bargain if you have a penchant for wall decors, and also know that as hip and chic as they may seem, they can be expensive as hell. If you're the celeb kind, and want only the best, then there are some alluringly dazzling ones priced at around Rs. 5,000 - Rs. 7,000 per foot. Pricey, eh!

The carpets and area rugs have a resplendent but limited range. The multitude of upholstery that StudiOrion has is however just haut monde! If you're thinking of redoing your couch or settee, then be sure to check the variety here.

Enter home linen, the section that consummates every furnishing outlet. StudiOrion has linen that's high on quality and reasonable in cost. Bedsheets are classy with glib designs, and then there are the 'oh-so-snuggly' towels (from Bombay Dyeing) and robes. And take refuge this winter in StudiOrion's warm range of comforters (Rs. 4,500 - the decent ones) and blankets.

As the store clerk conceded, this certainly isn't the best in the business in H-town, but comes close. Apparently Atmosphere, not too far from here, is numero uno.

All in all, StudiOrion is a promising visit, a no-nonsense establishment that definitely has wide-ranging material for a furnishing outlet. It won't have you entranced, but you are sure to find some interesting stuff. The staff are cordial, helpful and informative. And this is no fly-by-night outlet - StudiOrion is a seasoned furnishings store, with over two decades of experience in the business. The first outlet opened 20 years ago at Paradise Circle, Secunderabad, and the Jubilee Hills branch is the bigger avatar.