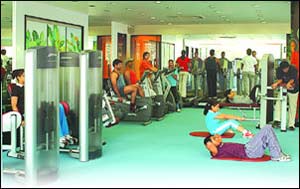 Research says that 29% of all men and 74% of all women are openly dissatisfied with their bodies, and that the rest are simply lying. Talwalkar's is the place where you can attain a tailor-made body for yourself, and take a weight of your feet.

The sprawling, cheerful ambience of the gym area, coupled with the presence of competent trainers, works towards imparting a feel-good factor aiding your endeavors. At Talwalkar's, you are assured of getting complete health club facilities from a team of qualified instructors and medical specialists, and the latest international equipment.

Goals, be they corporate or corporeal, need a well-structured plan, resources and guidance to manifest themselves. At Tawalkar's, you get all three-a personal plan, world class equipment, and professional guidance.

Upon enrollment, you get to chose from three different programs, which are:

1. Weight Loss
2. Weight Maintenance
3. Weight Gain

In all these programs, you'll be getting regular nutrition counselling and weight checkups, and a personal card listing your exercise and fitness targets. The charges are according to the chosen program, and can be adjusted with individual requirements.

The gymnasium has a Cardiovascular Facility (CVF) section, with machines like Recumbent Cycles and Elliptical Cross Trainers, in addition to the regular cycles and treadmills. For strength training, there are special machines like the Dual Adjustment Pulley (which helps you in doing 200 different varieties of exercises), in addition to a variety of bench presses. All the machines are imported from what they claim is the world's leading equipment manufacturer, Life Fitness, USA. There are also Swiss Balls and dumbbells from Iwanko, USA.

There are around 18 trainers, both personal (you can have one for extra charges) and general (who will anyway keep an eye on you), at this health club. All these trainers have undergone training at Tawalkar's Training Academy, Mumbai. In order to take the rigor off your schedule, you can add a steam-bath and massage into your program, at an extra cost.

With 33 well-established fitness centers across the country, and with a thorough understanding of fitness, personalized supervision and continuous upgradation of facilities, Talwalkar's boasts of over 1,00,000 members all over India.
EVENTS AT TALWALKAR'S (TALWALKARS)
There are no events at Talwalkar's (Talwalkars) scheduled currently.
LEAVE A COMMENT
fullhyd.com has 700,000+ monthly visits. Tell Hyderabad what you feel about Talwalkar's (Talwalkars)!