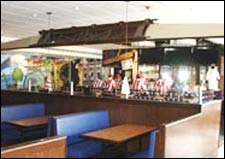 Cleary, every day is a Friday in here. TGI Friday's, located in the R K Cineplex in Banjara Hills, describes itself as a "casual dining establishment where couples, families and singles can enjoy a varied menu of tasty appetizers, meals and desserts as well as a broad selection of alcoholic and non-alcoholic beverages."

That's pretty much bang on, as you will discover in this rather vibrant restaurant. The place has a sunny feel to it, with brightly-lit interiors, the animated chatter of its guests, a clutch of sports screens, agile staff, and cheerful music. It's tricky to create such ambience without going over the top and jarring your senses, but TGI Fridays does it.

The menu features a rather wide range of continental and Tex-Mex food. You can choose from soups, chicken salads, pastas, fajitas, the Chicken Alfredo, steaks, pizzas, seafood preparations, nachos and quesadillas. The desserts feature sundaes, brownies, malt cakes and more.

The beverages menu has teas, cappuccinos and fruit juices, among others but TGI Friday's is mostly a watering hole for those who love their alcohol. The place is popular for its margaritas and its Long Island Iced Tea (which is h-u-u-u-g-e, by the way), and a few other signature preparations.

TGI Friday's usually has offers and happy hours going on, so you can expect to be treated to an extra drink if you walk in at the right time. Also, there's a bar for the guzzlers, and a separate smoking lounge for the chimneys.

Yes, this is a place we'd recommend if you're in the mood for something happy – whether you're on a date, an outing with friends, or even a family treat.