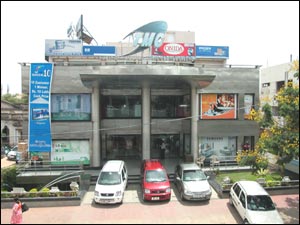 You can't miss TMC - the name is outlined in bright orange neon. Parking is a bit of a problem; the only vehicle there seems to be space for is the silver Mercedes, gift-wrapped in a red satin bow, parked by the entrance. It could be a bit daunting then, stepping out of a rickety auto.

Inside, it's like a sci-fi film or something: on the right is a row of refrigerators that are about as large as your cupboard, and on the left, around 20 flat screen televisions, all playing the same scene for you. The neon sign outside the shop says it all - Sony, Panasonic, Whirlpool, Kelvinator, whichever name comes to your mind when you think of electronics is, in all probability, in attendance at TMC.

Televisions in all sizes, refrigerators with nearly as many doors as you need, with voltage stabilizers to go with them, and washing machines that open any way you want them to - if you're shopping for such appliances, TMC is certainly one of the places you must visit. It's grand: there's probably not much of a chance that you'll find some of the stuff they have here in smaller electronics stores.

Needless to mention, it's a large store, covering two floors. The staff are helpful too. As for the Merc, yes, there is a sign on a large, multi-door steel refrigerator that says you could win it in a lucky draw, as we write this in mid-2005. Of course, if you're buying that refrigerator, there's a chance you have a Merc already. Either way, you never know when you could get lucky!