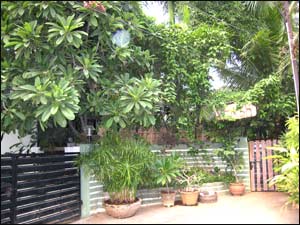 You would almost miss it if you didn't know what you were looking for, for the entrance to this enchanting place is almost completely obscured by lush, almost ferociously green vegetation. But once inside, you cannot rid yourself of the feeling of having stepped into a secret garden.

Set in the veritable heart of Banjara Hills, Vriksh is a garden store, serenely reflecting its proprietress' laid-back charm. Addeniums, Braided Ficus, Phillydendrons, Forsythia, Clematis... the Latin nomenclature sounds like viscously flowing warm honey as Padma points them out for you. She suggests using plants for gifting ideas, and you can only enthusiastically agree, hoping that you are the one at the receiving end. Sprightly yearlings to mature bonsai, they all find their way into containers of every kind - bamboo, terracota, cement, glass... why, even erstwhile coffee decanters are not spared.

While Padma does indeed do landscaping projects for clients onsite as well, terrariums are what catch your eye in Vriksh. Terrariums are what they are called - these visions of green oasis skillfully arranged in carry-home trays to embellish your terrace, balcony or whatever little space you have in your corner of the built environment.

Prices range from Rs. 350 for a plant-as-a-gift-idea, to Rs. 15,000 for one of those aforementioned divine terrariums. This garden store also displays the mandatory feng-shui friendly bamboos, eccentric frog and turtle garden accessories, and a variety of pots sourced from places as far away as Mumbai and Pondicherri.

Fortunately, you would just need to step in here to view a labour of patience and love.