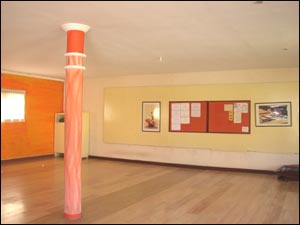 It is always sad to find good people lose, especially when they are lose what they accumulated over several years. That way, Active 'N' Fit is so totally cruel. Except that it does it with your flab.

Since nothing will work until you do, Active 'N' Fit makes sure that you come powered with zeal, before you venture on your quest of diminishing proportions. An orange cove set near a clear blue pool, the gym would have been a hermit's recluse, had it not been for the presence of the artificially spruced grass that surrounds both the pool and the aerobics den. The expansive room, which works as ground zero, is done in orange, and barring a few bench presses and weights, is sparse.

In the battle of the bulge, the rate at which your flab deserts you is directly proportional to your patience and your instructor's commitment. What little percentage it has to do with imported equipment and backbreaking exercises, is further belittled at Active 'N' Fit. Here, it follows that the best exercise is the one that you like doing and have the time to do, not the one involving the leanest of machines and meanest of schedules.

There are two instructors who manage the 3 regular 1-hour classes between them. Deepti Reddy, owner and Step Reebok certified instructor, has future plans of taking her health biz right up to your home, by providing personalized and private service. For now, there are three batches, at 6.30am, 9.30am and 6.30pm, and requiring a commitment of Rs. 850 per month from you. You can even get support on healthy nutrition at the same price, provided you get your own food.

While not discouraging the veteran enthusiasts, Active 'N' Fit takes care that people over 40 follow a regime suited for them. The same goes for people sporting specific injuries, aches and joint-pains.

Taking the 'work' out of your workout, Active 'N' Fit makes shrinking your girth a fun-game. It also guarantees you an inflated self-image as the by-product.