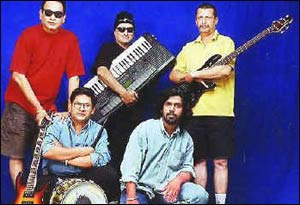 ME? What do I have to say about anything? says Loki Pai, lazily puffing his third cigarette in as many hours.

"That's because the girls like it. So if the girls like it, the guys rush in from the behind. That's why so many night joints in the city play Trance!" seconds Som who just walked in.

"Yeah, I guess so. Whatever!" Loki Pai gives up and gives Som another cigarette.

By then you give up, too, and wish that the cigarette stock just burnt itself away. But they'd go buy another pack.

Shucks! Who the heck are these guys? And what are they upto?

fullhyd.com can give the answer to the first question. In fact, anyone can. Alter Egoz is Vijay Mohan on the lead guitar, Badrinath Sarangapani on the drums, Lakshmi Narayan Pai (a k a Loki Pai) on the bass guitar and Sowmya Darshan on the vocals. But just what exactly they are up to is something Hyderabad would like to know.

Alter Egoz prides itself in being the oldest and best band in the city. And why should it not? Each member in the band is well into the other side of 50, and they play more for pure passion. For their detractors and friendly backstabbers, here's a word from us. Alter Egoz needn't be here in the first place. With each person happily settled in their own grooves in their respective professions, they needn't have given a dime's thought to who played what. But that was not to be.

It is for this reason that they don't look at Alter Egoz as another band, but rather as a propriety concern. They look at it as a means to achieving their dream. A dream where the good music and good musicians can flourish. When they performed at Qwiky's, they were amazed at the number of pre-teens who could make it, who otherwise would be at home while their parents watched Alter Egoz at the pubs!

Even as they pursue this dream, they feel Hyderabad has to grow a lot more. Their brain-child RASH (Rock Appreciation Society of Hyderabad) closed shop, because no one wanted to pay and get in. RASH gave a platform for 18 new bands, but they still can't make ends meet. Alter Egoz now sees itself as a victim of a rotten system and ponders on the existing scenario. "Everyone wants entertainment free of cost," says Loki Pai, "And it isn't a lot we are asking for. Only a mere 50 bucks?"

Is that a lot? Well, listen to them and find out.