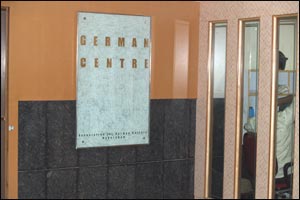 Most people think that the primary thing that the language schools of town facilitate is interaction between young members of opposite sexes, but they also facilitate an understanding of different cultures. This one is a classic example.

The Association For German Culture, Hyderabad, is affiliated to the renowned Goethe-Institut, or as it's known in India, the Max Mueller Bhavan. It's a part of the 150-strong worldwide network of institutes offering excellent opportunities to learn the German language and culture. The Hyderabad center has recently been conferred the title of Goethe-Zentrum, and has already schooled over 700 students. Teachers with over two decades of experience share their wisdom and experiences here, in classes that are held all through the week and over the weekends as well. Other cultural events such as screening of films, classical and jazz concerts pep up the usual routine.

At the ACGH, you are offered accredited certified courses from the Goethe Institut. Both the Basic (G1, G2, G3 levels) and the Intermediate (M1) levels are taught here. The institute is a part of the pan-European association of language training providers aiming to promote and guarantee quality in modern language teaching institutions, also known as EAQUALS. Classes are conveniently offered in the Intensive, Non-Intensive and Weekend batches, to cater to needs of a varied student body.

Learning at the AGCH is both a highly educative and an immensely fun experience. The batch sizes are optimal, to facilitate a deep student-teacher interaction that is essential to language learning. The classes are held at the Center itself, which is situated conveniently in the heart of the city, and is yet not affected adversely by the city's decibels. A beautiful backdrop of a sheer rock face and an old banyan tree forms the ideal setting.

Please visit the ACGH for more information on the schedule of classes and prices.
LEAVE A COMMENT
fullhyd.com has 700,000+ monthly visits. Tell Hyderabad what you feel about Association For German Culture, Hyderabad!