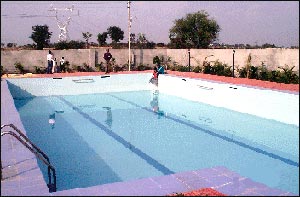 The MCH swimming pool is a stalwart of Hyderabad's community life. Named after an ex-minister of the state, the pool was Hyderabad's first, and was the cynosure of attention of all its people - both the elite, and those who just loved to swim.

It has seen film stars and politicians amongst its ranks. Now, the kind of crowds that go there are decidedly middle-class, with children leading the pack. Sundays usher in the family crowd, and for many it's a cherished weekend ritual. The pool is no longer a host to celebs - not unless you count the swimmers who have won medals there and whose pictures proudly adorn the walls.

The pool is also a testimony to the changing times and changing lifestyles, and definitely the rise and fall of the rupee. When it opened way back in 1970, it used to cost Rs. 1 per hour, and anyone who could and wanted to pay could come and dive right in.

The pool has played many a role in the past: a national arena for competitions, a place for shooting films et al. In 1977, it was decided that things could be better maintained if a membership was started, and that's how it is now. For Rs. 400 per month, you can play at being mermaids - quite affordable by today's standards.

And for Vijay Singh, it is more than just a swimming pool - it's the work of a lifetime. The technical-in-charge for the past 28 years, he is an integral part of everything that goes on here. He was about to launch into more anecdotes about the pool when a couple of inquiries came in about the membership. He had to regretfully decline and tell them to apply early next year. Yes, makes you think. It's not merely for affordability that people throng here. They genuinely like to come here.

And if people being as fussy and demanding as they are about their lifestyles today, still get a sense of deep satisfaction and rejuvenation after coming here, then the pool authorities must be doing something. And a quick glance shows you exactly what that is: clean waters, happy people and frolicking bodies. Now that's value for money, and lots more.

The MCH swimming pool tells a quietly impressive tale of an establishment that has stood the test of the changing times and will always be an important part of the evolving Hyderabadi landscape. Plunge on.
LEAVE A COMMENT
fullhyd.com has 700,000+ monthly visits. Tell Hyderabad what you feel about B V Gurumurthy Memorial MCH Swimming Pool!