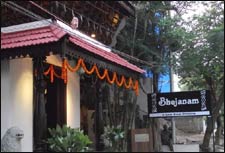 Dining at Bhojanam is a fancier, more cosmopolitan-ized – and significantly more expensive - way to eat a dish of rice and majjiga pulusu than at any of the hundreds of local Andhra messes dotting town. But if you're south-Indian and you know what you're eating, you're likely to believe in the futility of the exercise.

Don't get us wrong – Bhojanam gets its food right, and the décor is impressive as well. But operating less than half full on a Saturday night should probably give them a hint that something isn't right (hint, hint: the prices).

The menu draws from Andhra Pradesh, Karnataka, Kerala and Tamil Nadu. But the chefs choose not to go the elaborate way, and instead, stick to only the more famous dishes of the 4 states. Hence, you have known names like AP's Gongura Mamsam, Guthi Vankaya and Bangaladumpa Vepudu (can you imagine paying Rs. 195 for this one?); Tamil Nadu's Kozhi Milagu and Karaikudi Aranmani Curry; and Karnataka's Udupi Sambar and Mysore Chilli Chicken. It's mostly a meat-eater's place, because the vegetarian preparations are mostly commonplace. However, the Kerala appams, porottas, stew and avial are quite worth the price.

We didn't quite dig the idea of paying Rs. 500 + taxes for the buffet – do a mix 'n' match from the a la carte buffet, and you'll probably end up saving money and eating what you want.

Bhojanam's interiors have a busy look. They go for classical, with wood liberally used to make the place look like an ancestral house in the interiors of Tamil Nadu. The walls are painted with mythological characters and scenes, and the huge swing on the portico is a beautiful touch that lets even the kids enjoy the setting.

In all, head to Bhojanam if you want to impress someone with your bank balance while you're treating them to south-Indian cuisine.
LEAVE A COMMENT
fullhyd.com has 700,000+ monthly visits. Tell Hyderabad what you feel about Bhojanam (Flavours Of AP, Karnataka, Kerala & TN)!