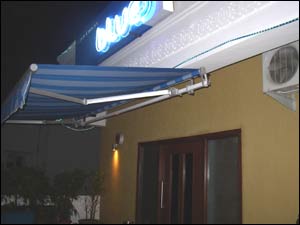 The Scene
Blues is a bungalow converted to a lounge bar, and it looks like that. Is that a good thing or a bad thing? Both, actually. Yes, you've never had a straight answer to a question like that, all your life.

Well, it's a bad thing because it doesn't look anything like many of the chic ones opening up in town that spend unethical amounts on interiors, and has almost no brasserie furnishing - a 500sft room with some dim accent lighting and a flat screen TV does not a lounge bar make, and you won't find the hipster crowd here. And it's good thing because the owners know that. As you can make out in the price charts, especially the spirits section. You can get a bottle of Kingfisher for Rs. 110, and don't gasp for the wrong reasons - this is an air-conditioned place in Banjara Hills.

Blues was once the restaurant Spice Touch, and did not serve liquor. Neither was a good idea. In all probability, they are shimmying up the right ladder now, since the place looks fairly populated. Spanning the ground and the first floors (non-smoking and smoking), it can accommodate 50-75 people, and has the bar and the boisterousness located upstairs. It is lighted up in a gloomy shade of blue, and lacking in all the other paraphenalia that the interiors of a trendy lounge bar sport, can feel rather seedy, especially for a first-timer to a bar.

The Food
Blues has an elaborate liquor menu, and a much more elaborate food menu, with about 200 dishes. Apart from all the de rigeur Chinese and North-Indian dishes and kebabs, there are North-Indian and South-Indian thalis for Rs. 100 to Rs. 200; 10 biryanis including Mushroom and Kheema biryanis, for Rs. 100 - Rs. 170; traditional Andhra items like Bommidala Pulusu, Royyala Iguru, Kakinada Peetala Iguru and Natu Kodi Vepudu for around Rs. 150; and even the odd Egg Manchuria (yes, you haven't heard of this).

The food is an accompaniment to the liquor, and serves that purpose well. Would you go just for the food? Well, Blues is not likely to make any top 10 lists, and is primarily a neighbourhood joint. And there aren't too many good eat-outs in a 2km radius of this upmarket Banjara Hills residential area. If you still didn't get the answer, try reading the para again.

The Verdict
There's a Baskin Robbins parlor in the courtyard of this bar. Like the old-timers would say, the city has changed. Also, it will be interesting to see who sends crowds to the other.
LEAVE A COMMENT
fullhyd.com has 700,000+ monthly visits. Tell Hyderabad what you feel about Blues Restaurant & Lounge Bar!