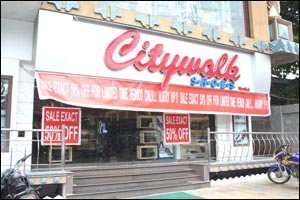 What can we tell you about the year 1665? That it was a long time ago, and that Samuel Pepe was making entries in his diary that year. Excerpts from that diary, and other inspirational quotes will stare you in the face as soon as you set foot into Citywalk. As a matter of fact, the store is quite a Hall Of Frame, with like a bazillion frames holding quotes of celebs. And the novelty of this is quite refreshing.

And after you are through reading those frames, you will remember that the reason you were there in the first place, was to dress up your feet. This, by the way, you can do in grand style. With a 25,000-strong collection of footwear here, all designed inhouse, you will certainly find something to pounce at. Unless you are a child; then you will be expected to be well-behaved and, anyway, you won't find much to pounce at. The collection for children is minimal, but the store promises to stock up soon.

There are some sling-backs in sexy pencil heels that are really to kill for. And the bag-shoe pairs will make a matching ethnic outfit look divine. The knee-high boots seem buyable and the sandals for guys look cool, too. The cheapest pair they have costs Rs. 300. But even if you're being really stingy, you'll end up spending around a grand, because that's the least that anything good costs out there.

The store did have a great inaugural offer, but don't fret if you missed it; it has a perennial offer of "right shoe ke saath left shoe free".