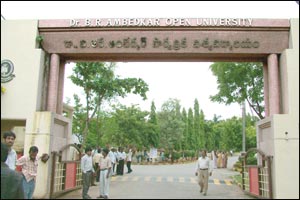 If your idea of studying is a post-box flooded with course material, or a pedagogical figure on Doordarshan yada-yada-ing away about neutrons and nuclei, then the Dr. B R Ambedkar Open University is not a bad place for you to avail yourself of your degree. Especially if you are short of time, money or just plain ol' ambition.

Having the distinction of being the pioneer in its field in India, "Education for all" is the motto of the University, and while they haven't quite educated everybody yet, an impressive 4 lakh plus students are on their active rolls. In 152 study centers, of which 13 are exclusively for PG courses, 7 are for only women and 2 are in central prisons for prisoners to pursue an education. The study centers are equipped with libraries, laboratories, audio & video, and recording facilities.

BRAOU follows a multi-media teaching-learning approach, which broadly comprises self-learning print material supported by audio and video lessons, and regular broadcast of lessons through All-India Radio, Doordarshan's regional channel (DD8), and, recently, MANA TV.

Distance education is a fast growing alternate route of education, and BRAOU has set standards for it in India since its inception. Which makes it a safe bet for students who choose this route.
LEAVE A COMMENT
fullhyd.com has 700,000+ monthly visits. Tell Hyderabad what you feel about Dr B R Ambedkar Open University!