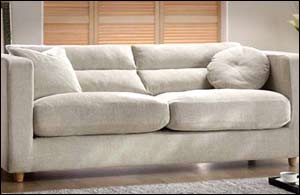 There is a sense of warmth about Jaydurga. The customer-friendly staff are only glad to assist you without ever imposing themselves on you. But what titillate your senses are the myriad colors on display. Jaydurga easily has one of the most splendid collections of curtain fabric in the twin cities. They start at Rs. 150 a metre, and you'll be tempted to find out what else the store has to offer.

The shop also houses a fantastic variety of sofa fabrics, carpets, mattresses, bedsheets and table linen - one visit here will probably give you a complete home improvement solution. The affable management work one-on-one with every customer, so you are bound pick up an item that matches your taste and your budget.

Jaydurga also happens to be an authorized dealer of the Zuari brand of furniture from K K Birla. Though there is no furniture on display, the cashier was prompt in giving me the directions of the warehouse where all the furniture is stored. The catalogue is quite impressive, but it is recommendable to get a look and feel of the furniture if you contemplate a purchase.

The Zuari portfolio, though limited, is stylish and economically priced. Sofa sets are priced between Rs. 22,000 and Rs. 26,000. The double beds start at Rs. 10,000, and the dining tables at Rs. 8,000. The most stunning pieces of furniture in the catalogue are the shoe racks. Starting at Rs. 1,500, these are rather interesting pieces that'll brighten up the entrance of a house. However, these racks will not suffice if every member of your family boasts half a dozen pairs of shoes, said the cashier. I wonder if he was pulling my leg.

Even if you walk out of the store empty handed, you'll perhaps make up your mind to visit Jaydurga the next time your home needs a revamp.
EVENTS AT JAYDURGA FURNISHINGS
There are no events at Jaydurga Furnishings scheduled currently.