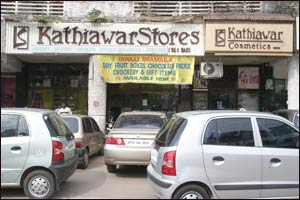 Kathiawar is where your beautician comes to buy her supplies. Very few people need further endorsement. This little store is crammed with everything you will ever need in the dab-smear-puff-and-voila! department. Whether you seek to just follow the golden mantra - Cleanse, Tone, Moisturise - or jazz up those roots with the latest shade of bronze, Kathiawar is your store.

Shelves groan under the sheer number of brands they stock, and there are counters dedicated to various aspects of primping and pouting. Perfumes from Chanel to rose essence, cosmetics from Chambor to Lakme, herbal remedies from Shahnaz Hussain to Biotique, skin care from Clinique to Ayur, hair care for Clairol to Sunsilk, and various odds and ends - hair brushes, darling little manicure and pedicure sets, false eyelashes, and everything else you need to get pretty.

The store is small, and on weekends it's packed with shoppers. Understandable, because a visit here saves you time and bother, partly because not all these brands are available everywhere in the city. For instance, L'Oreal's Liss Extreme range, or Shahnaz Hussain's complete collection.

If hope does indeed reside in a jar, you'll find it here.

Insider tip: Kathiawar is a good place to pick up economy-sized bottles of whatever you need, especially moisturizer and shampoo. That's probably what your hairstylist does too.
EVENTS AT KATHIAWAR STORES
There are no events at Kathiawar Stores scheduled currently.