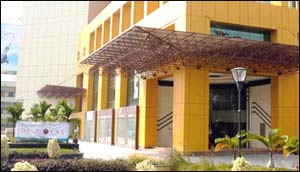 One of the biggest hotel buildings in the country and arguably the most mammoth hotel in town, the Katriya de Royal is the perfect luxury experience. ...Wait a minute, not quite.

Towering over 16 floors and covering an unbelievable area especially given where it's located, Katriya De Royal certainly gives out an ultra-masculine look. Once you make your way in, however, shabby interiors, unclean floors and senseless lighting welcome you. One portion of the building is owned by A P Tourism (APTDC), while the other portion is Katriya's own. At this point, there are two restaurants - one ethnic and one multi-cuisine - and no bar. Both restaurants are rather decent looking ones.

The rooms at Katriya have slick interiors, and are roomy with all modern 5-star amenities like plasma TVs, oversized beds, comfy couches and chairs, well-designed tables and marble flooring. The suites look pretty similar except they are more spread out, with two rooms - a living room and a bedroom -, and have two TVs, and more furniture, besides a minibar. The bathrooms are just okay, with bare necessities like showerheads, sinks and toilets. None of the rooms and suites has bathtubs.

Without sounding judgemental of it in its infancy (it's hardly 3 months old, and still under development), Katriya de Royal has work to do to live up to its exterior swank and rep.
EVENTS AT KATRIYA DE ROYAL (SHIFTED)
There are no events at Katriya de Royal (Shifted) scheduled currently.
LEAVE A COMMENT
fullhyd.com has 700,000+ monthly visits. Tell Hyderabad what you feel about Katriya de Royal (Shifted)!