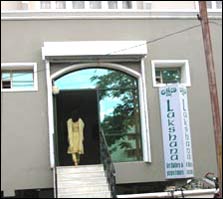 What is most stunning about Lakshana Art Gallery is that solitary brass lamp they keep lit in their main room. And the next most attractive thing is their anthology of Tanjore paintings.

Yes, they are Tamilians, through and through. But please, don't assume that Tanjore paintings are all they have. Lakshana specializes in paintings. From Egyptian paintings to watercolors, acrylic on canvas, oil on canvas and mixed media, they have 'em all. Apart from these, they also have Tanjore paintings, gemstone work on marble, sculptures of clay mixed with Plaster of Paris, sculptures of teak wood with a Rosewood finish, digitized paintings, framed sketches (you can have them custom-made too), mirrors framed in Egyptian Prince frames ...its a universe of art.

Started by H Madhu in Chennai, Lakshana has its head office in Chennai, and now has three branches - one in Hyderabad, one in Bangalore and one in Coimbatore. The branch at Masab Tank is supervised by Rama, who has been with Lakshana for 5-6 years now. She is so au fait with the place, one question about anything will bring several minutiae flying. Here's just a little you gather:

- The Tanjore paintings cost Rs. 2,000 - Rs. 60,000
- The Egyptian paintings up to Rs. 2,500
- The mirrors in the imported European Prince frames are between Rs. 8,000 and Rs. 12,000
- The Teakwood sculpture is between Rs. 2,000 and Rs. 3,000
- The gemstone work on marble is Rs. 1,500 to Rs. 2,500
- Sculptures of clay mixed with Plaster of Paris vary between Rs. 5,000 and Rs. 10,000

You can also get a custom-made sketch of yourself, have it framed and buy it. They are willing to provide you with the artist and the framing. The charges will depend on the artist, the kind of frame and the size of the sketch.

Culminations of myth and abstraction, their exhibitions are generally a huge success. For all the undiscovered artists in town, these exhibitions are conducted in their main hall, and cost Rs. 1,500 per day, with electricity charges separate. You also need to take care of your own invitations.

They also take up framing orders, and have a variety of frames right amidst their gallery. The charges depend upon the kind of the frame chosen and the magnitude of the framing job.

Arranged in a clean three-room apartment, with separate rooms for separate categories of artwork, Lakshana is a peaceful, enriching and satisfying experience. If you stick around long enough, Lakshana can even clear up the clutter in your mind.
EVENTS AT LAKSHANA ART GALLERY
There are no events at Lakshana Art Gallery scheduled currently.