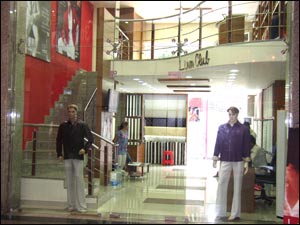 An offering from the Aditya Birla Group, and endorsed by no less than India's very own, though now aging, enfant terrible Rohit Bal, Linen Club faces high expectations. But does the store live up to the hype that surrounds it? Well, that's really for the discerning buyer to find out. With prices for the pure linen material-by-the-meter starting at Rs. 250 all the way to a whopping Rs. 1,200 (a meter), it's a judgment call. Designer ready mades, however, are at a steep Rs. 995 to Rs. 2595 for a shirt, and pants for Rs. 1095 to Rs. 1695. Of course the store selections will vary depending on the stock available.

That the material is high-end, high fashion is a given - it's the prints and colors that are really quite pleasing. The store stocks a line that is created around the new age man, who allegedly cries in the movies and does not shy away from wearing pink. There is some ready-to-wear stuff, more evening/dressy casuals, and you can buy a Rohit Bal or Karan Mehra creation for a couple of thousand rupees. Alternatively, you can get the resident shop tailor to do his job for a nominal Rs. 450 for a pant and shirt set.

While the fact that an honestly comfortable material for lounging Sunday brunches is now easily available in the city should be news to rejoice in for some, the unfortunate others are left wondering: What lounge? What brunch? For that is exactly what the Linen Club embodies. A clubby feel (not necessarily of the pub variety), whether day wears or nighttime wear, the accent is on casual and casual dressy. The protagonist, linen, is also the kind of fabric that lends itself to luxury and comfort, and needs a certain lifestyle to accommodate its attributes.