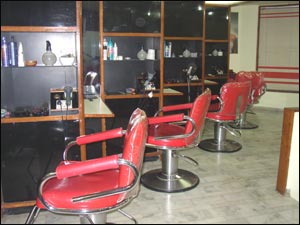 She does not want to revise your appearance from a Ms. Hyde into a Dr. Jekyll. All Vijaya Reddy is disposed to do is improve your appearance, but so that you still recognize yourself when you leave her place. And this singular idea gave birth to the name of the beauty parlor.

Apart from her refreshingly unusual thoughts about her job, Reddy also has an extremely good eye ...and a good ear, two good hands and two good feet... Jokes apart, what we actually mean to bring to your attention are her striking taste in interiors, and, if her assertion is right, the choice of her personnel.

She herself has graduated from the Master's Institute of Cosmetology in USA, and has trained under the World Gold Medalists in the Hair Olympics 1984, Ann and Garybray. Yet, her demands of the people she chooses to work with are very simple. While the possession of experience and a degree in cosmetology would be additional benefits, the only pre-requisites are the right attitude, good body language and a few basic skills in skin and hair care. And she ascertains the presence of these attributes in a personal interview that she conducts herself. She has no reservations about training them, once she has unearthed the other traits she has in mind.

Apart from this, she also conducts a beautician course which lasts for 3 months. This is a full-fledged course running into 8 hours a day and Rs. 30,000. If the student is too slow, she even gives her upto 4-5 months. And during this period, she allows those dangerous clippers to be used on herself and her staff.

Of course, since it is primarily a beauty parlor, apart from training, you can also go there for a makeover. A haircut costs Rs. 125 - Rs. 250. If it's just a hair trim you are looking for, that comes to just Rs. 85. A bridal package amounts to around Rs. 2,000. This ordinarily doesn't include makeup, the hairdo and tying the sari.

And while you are curling up in her remarkably luxurious red seats and admiring her very Western interiors, you can also rest assured about your haircut. Reddy specializes in hairstyling, so at this beauty parlor you can comfortably let your hair down and take a good second look around the place. And not be worried about the results.

Her little one-liner for inspiration is, and I quote, "When you look good, you feel good. And when you feel good, you are good to others." So Naturals is a good place to begin with your Good Samaritan act, too.
EVENTS AT NATURALS BEAUTY PARLOR
There are no events at Naturals Beauty Parlor scheduled currently.