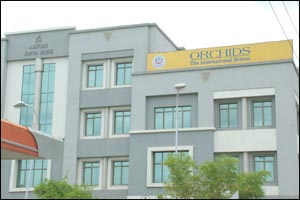 What makes Orchids so special? Did we say it is special, in the first place? Oh well, since we are on that topic, the researchers at fullhyd.com did manage to unearth a few things. The fun would be for you to guess the rest while we give an example of one.

Ever thought of how your child's poor brains are boiling during the generally scorching Hyderabad weather? Worry not. For now we have the availability of air-conditioned buses over here. It's a great way to prepare your child to face the gruel that is life. We personally think he should never have been taken out of the womb in the first place. And what more can you ask for, now? A CDMA mobile phone to ensure their safety, along with a customized teacher to do the same? Coming up, ladies and gentlemen.

Orchids is an extension of the Gowtham Educational Institutions, which are well-known around Hyderabad. Following the buffet system of schools, this one too offers many co-curricular and extra-curricular activities. It has public speaking, music and various societies to name a few. There are also cricket fields and basketball courts, and amenities for various other sports.

There is a host of aesthetic activities that are provided to the children that every parent will be interested in knowing. With the incorporation of yoga, sculpting, clay-modeling, drama, dance, poetry-writing, painting etc., this school stands ahead of some by offering an unusual smattering of activities. To make the classes interactive and stimulate the minds of the students, the teachers use OHPs, CD screens and computer displays. The hobbies include woodwork, philately and numismatics.

The school offers both CBSE and IB curriculums. Once your child enters the 9th grade, you all can sit together and decide whether you want to follow the CBSE stream or shift into the international one (IGCE at the 10th grade), which will both continue to the 12th grade (IB).

In with the 'home away from home' concept, Orchids has not fallen short. Your child will have much holistic learning in his/her life.
LEAVE A COMMENT
fullhyd.com has 700,000+ monthly visits. Tell Hyderabad what you feel about Orchids - The International School!