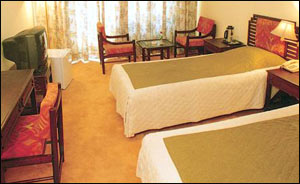 Pearl Regency may (like many other lodgings in Hyderabad) derive its first name from Hyderabad's legacy reputation, but it is inaptly christened. It is neither pristine (save its ivory exterior), nor sophisticated.

Its lobby, for instance, is no white-glove environment. It is pleading for a vacuuming and shampooing, or alternatively, a face-lift. The tapestry on the sofa sets (bits of left-over chips were peppered all over them when this writer went a-visiting) has wrinkled under the weight of thousands of butts, perhaps even more. The ears of the dusty carpets could put a dog's to shame. And the fragrance of dhoop hangs heavy in the air - we wonder what it is masking.

Mercifully, though, the rooms are a happier revelation. There are 40, spread over three floors and types: Standard (tariff starts at Rs. 2,595 and includes breakfast), Executive (tariff starts at Rs. 2,895 and includes breakfast) and Classic (tariff is Rs. 3,395 and includes breakfast; the room comes with an attached balcony).

Big, ample (even the mattresses on the beds are generous and firm) and adorned with all the tidy hallmarks of 3-star hotel bedrooms, they would satisfy a fussy customer. Just don't expect a killer view - an open window is a hazard here because it only welcomes dust and noise from Lakdi-ka-Pul. The bathrooms are properly burnished, the toilets sanitized.

Pearl Regency's 4th floor houses two banquet halls, Windsor and Manor. Each is most functional, and can accommodate 100 and 50 people respectively, in theater-style seating. Flora, its "Terrace Garden" (no sign of a "garden" whatsoever, though), can hold 250 people. The roof of Flora sports a crude industrial look, undelibrately. Crane your neck and rusting iron fixtures immediately grab your attention.

A board room, strangely named "15 Degree Celsius", also occupies the premises. A lone piece of furniture stands bravely inside: a long, wooden table.

Pearl Regency is not exactly a food-lover's paradise, either. Restaurant Carnival serves multi-cuisine fare. Vintage, the hotel's bar, promises to "lift your spirits" in the brochure, but one look inside and one knows that that is, sadly, just a gimmick. Like much of this 3-star hotel.