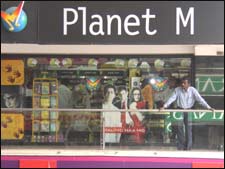 The moment the bill is presented to you at Planet M, you realize what that M stands for - Molestation! How can you end up paying your entire salary to buy one measly English CD? The cashier in his smart mustard-coloured costume smiles courteously. That makes you feel a little better, and you enquire if the prices are this exorbitant elsewhere. He says they are the same, if not more. That's when you realize that real music lovers will pay anything to support it. They won't sleazily download stuff from the Internet.

Having learnt about what people actually think of Internet-music-lovers, I proceeded to explore Planet M. And my first reaction - wow! This store is an absolute haven for music lovers! Check out all the counters it has:Regional
New Releases
Carnatic Classical
Hindustani Classical
Western Classical
Telugu Film
Spiritual
Kannada Film
Hip-hop/Reggae/Rap
Pop/Rock
Fresh Imports
Indi Pop/Dance Mix
Hindi Film
Compilations

Surprisingly, they also have a counter called Cash, but apparently we have to give cash and not the other way round. Not only this, the store also has a truckload of audio accessories like:

Headphones
Earphones
Mikes
Blank Tapes
Head Cleaners
PC Speakers
Multipurpose Pouches
CD Racks
Walkman Pouches
Palmtop Packs

Then there's this section for CD-ROMs, VCDs and DVDs. It has stuff from all the 3 primary languages dating back to the '50s as well. The prices of VCDs start from Rs. 100 - very affordable. There's also a small section for funky T-shirts and caps.

Okay, the categories sound really promising, but I knew I'd be disappointed once I get into the details. I was. Because my prediction was way off-target. The racks are actually full. They even have a Slipknot cassette (Slip who?).

So there you have it. Great store, good prices and happy buying.

PS: They have huge discounts for holiday seasons - 2 ke bhao 3, double CD for one price etc.