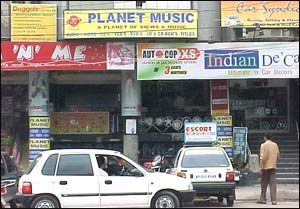 Tucked away under one of Hyderabad's many commercial complexes, there's a rather subtle take on shopping for music and movies. At Planet Music you won't find wild snazzy decors, packed crowds or the loud music that's become quite common with other businesses desperate to attract customers and boost sales. What you will find is a cool & relaxed atmosphere, a nice place where you don't have employees breathing down your neck, eager to make a quick sale.

Laid out in a modest way, there's just a fraction of shelves that you'd normally expect at a music store, but they're loaded with a very thorough collection of CDs, DVDs and cassettes. For starters, they've got quite a collection of Hindi and Telugu audio CDs & cassettes. But that's not Planet Music's forte - if it's even possible, they've got a greater number of Hindi & Telugu Video CDs (VCDs). It's very likely that you'd be able to find whatever you're looking for.

While English music is limited to a handful of odd CDs and a completely random collection of cassettes (most of which are either more than a decade old, or are movie sound tracks), they've got English movies pretty well covered on DVD and VCD, though a bit limited to blockbuster hits.

One area where Planet Music really shines is in its computer & video games section. They've got everything from original sealed boxed games to black market Playstation & Xbox sleeved discs. They dabble with accessories as well, from headphones to blank discs & storage cases. Educational, training and devotional CDs aren't scarce either.

Although Planet Music isn't as big or well thought out as the other music stores in town, it does have a certain odd charm to it - there's hardly any logic in the way the discs and cassettes are organized in each section, leaving you discover new or old music & movies at your own leisure. That's a certain experience that you just can't get anywhere else, provided that you're not in a rush.