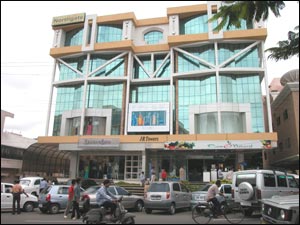 Anybody's who's ever cursed the idea of plastic-wrapped veggies will love Pure 'n' Natural. Enterprising businesspeople are catching on to the best way of selling fruits and vegetables - get a warehouse-type place, stack the aisles up with almost obscene quantities of fresh produce, and offer them at prices that rival the nearest mandi. Then stand by as most everyone within a 5km radius comes a-flocking. Your local bandiwallahs and basketwallis have nothing to worry about, but FoodWorld better watch out.

Pure 'n' Natural has caught everyone's fancy. Apart from all the usual fruits and vegetables, they also sell good strawberries, peaches and pears. And cashing in on the constant stream of visitors marching in all day long, the store now has a fresh salads and juice counter too.

You'll find some unlikely offerings like Cucumber Juice - which isn't half bad, and quite welcome on a hot day - and Papaya Juice, which is only for the health-conscious and, of course, people who actually like papaya. The juices are not spiced or otherwise corrupted in any way, and you can specify if you'd like your drink minus the sugar. The fruit-salads (served without custard or cream) are also quite in demand. One satisfyingly sized plate of sliced fresh fruits will cost you Rs. 15.

With a large enough place outside to sit at, and priced reasonably, this is a good place if you're looking for a regular, un-fussy fix of your neccessary daily vitamins. And that's more fun than it sounds.
EVENTS AT PURE 'N' NATURAL
There are no events at Pure 'n' Natural scheduled currently.