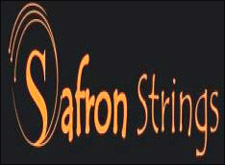 The Scene

Of the clutch of restaurants on Banjara Hills' bustling Road No. 12, Safron Strings is among the more unremarkable. Spread across two levels of flooring, with the buffet being served on the upper story, the seating is severely limited. The buffet is served in a cramped place, and food is brought upstairs from their kitchens below.

Plus, it is run by the leanest of workforces you would have seen anywhere, comprising disinterested and slow staff. Dishes at the buffet table need to keep getting refilled frequently, and all that pushing and jostling at the buffet will have you scrambling for cover towards your table.

It's ironical that the glaring inefficiency of the service should even bother you, given that this is a buffet place, but sadly, that's how things unfold.

The Food

Keep expectations low - if you don't right at the start, it's easy to see value for money quickly diminish, like sand spilling through a closed fist. Safron Strings is strictly a functional eat-out, with a basic spread, and may probably satisfy the budget eater or a high-school gang out on an unfussy treat.

The run-of-the-mill vegetarian buffet is accompanied by appetizers that are served at your table, along with a juice. 6 starters are promised, out of which a couple are chats (bhel puri and pani puri). The appetizers are pretty generic stuff, and set the tone for the ordinariness of the rest of the meal, if nothing else.

Indian dal, rice and gravy side-dishes, a Chinese dish or two, and an array of pickle-and-papad accompaniments form the main course, before you get to the sweets/dessert section. Taste buds aren't pampered here, but neither are they scarred. Chances are that you've tasted much better at a wedding.

The Verdict

Unless you're stranded in a downpour and hungry enough to eat your arm, you could do much better than Safron Strings for a meal. Tread carefully.
LEAVE A COMMENT
fullhyd.com has 700,000+ monthly visits. Tell Hyderabad what you feel about Safron Strings - The Vegetarian Restaurant!