Sharma's Chat Bhandar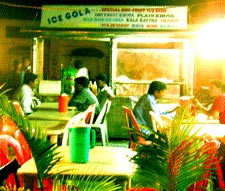 You might not be tempted to step in here unless you're being dragged by an enthusiastic friend, because Sharma's Chat is a lot better than it actually looks. It's a dark little place in the evenings, but once you step into the compound you'll be surprised to find how crowded it is. And most of the people are having one of two things - pav bhaji or ice golas. The first is acknowledged by many to be the bestest in the city (there's even a little copycat bandi on the Abids road that cashes in on the Sharma's brand name). But the real thing is apparent at first bite.

The ice golas here are available in unusual flavors like Strawberry and Litchi (given the right season, of course). The Orange, Lemon and Rose Ice Golas are very good here, and the Kala Khatta reigns supreme, as everywhere else. The golas are spiced generously with an aamchur type of powder and lots of lime-juice. Fifteen minutes of happy eating.

Set a little away from the main road, Sharma's Chat is the kind of place people come looking for because they've heard about it. And they have a decent place for you to sit and enjoy your meal. A must-visit on the Abids circuit.
SHARMA'S CHAT BHANDAR SNAPSHOT
Listed In

Address

Telephone

Distance

Sub-Categories

Average Meal Per Couple

Year Started

Timings

Closed On

Average Meal Per Couple

Payment Option(s)

Closest Bus Stop

Closest MMTS Station

Add New Field:
EVENTS AT SHARMA'S CHAT BHANDAR
There are no events at Sharma's Chat Bhandar scheduled currently.
LEAVE A COMMENT
fullhyd.com has 700,000+ monthly visits. Tell Hyderabad what you feel about Sharma's Chat Bhandar!