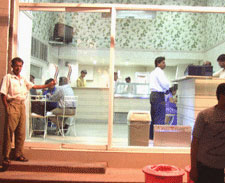 For the longest time, Softy Den was in a state of constant construction. It was a mess with hardly any place to sit, and yet the people kept coming. The ice-creams were thriving as usual, and then even the pizzas became famous, especially with the after-school crowd. A good thing is a good thing, and nobody was going to let a little renovation-in-progress get in the way of a seriously lovely meal. One of the best places for that in Abids happens to be at this little shack.

Now, of course, the place is positively swanky compared to before, and there's even a nice little dine-in. Softy Den is equally loved for its ice-creams and its other snacks. While tastes tend toward sundaes and even a couple of frozen fruit ices, there is a healthy demand for the deliciously spicy sandwiches and pizzas.

Black Forest, Butterscotch and Chocolate are the most popular flavors here, and you can't go wrong with any version of these. You'll love the Anjeer Kaju, Black Currant or Pista Frozen Ice-cream, although this range is slightly more expensive and a scoop will cost you around Rs. 35. If you're in the mood to treat yourself, try the Chocolate Overload or the Choco Crunch Fantasy.

Softy Den has a special sandwich called the Mumbaiyya, which is only for the strong of palate. The Corn Cheese Toast and Mexican Pizza are both absolutely delish when you want a taste of the fire that only desi sauce can bring to each morsel.

A nice little place to chill out, and the best that Softy ice-cream can get.
EVENTS AT SOFTY DEN (ABIDS)
There are no events at Softy Den (Abids) scheduled currently.