Tennis Centre, Gymkhana Grounds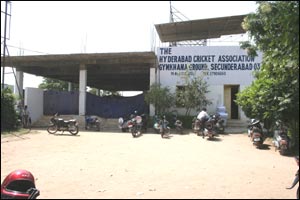 Never mind the fact that the best tennis genes on the planet belong to the kid whose parents are Agassi and Graf, and never mind if those blonde Russian teens with tongue-twister names are taking over women's tennis the Hyderabadi can still dream of getting his kid into the tennis hall of fame for a mere Rs. 10 a day. Yes, you read that right!

The Gymkhana Grounds are a diligent attempt by the Sports Authority of Andhra Pradesh (SAAP) to encourage young talent in numerous sports like tennis, hockey, cricket, volleyball, basketball. The tennis center here is exclusively for youngsters and kids below the age of 15. There are 4 clay courts which are split up into two each for coaching the under-10 kids and the older ones.

The coaches here come highly qualified as Sports Authority certified tennis guides. The balls used here are of international quality Penn, Wilson and other such well-known brands. The courts are rolled on a morning-evening basis and watered regularly. With adequate funds coming through the SAAP, maintenance comes across as top priority here.

So how accessible and affordable is all this, the layman asks? A meager Rs. 300 per month is the answer. As Stalin, an ex-army serviceman and a SAAP coach at the center, puts it, "This place gives you the best your kid can get in tennis, minus that dent in your wallet."

The courts are accessible from early morning hours till afternoon, when they close for maintenance. Early evenings, they open up again and stay on till sundown. Sundown is when all the fun ends because floodlights are the one thing that's missing here. Sad but true. Overbearing mothers, smile your kid can no longer stay out late saying he's playing his 10th set of tennis.

Apart from that drawback, and that there are just 4 courts, the tennis center at Gymkhana Grounds offers the best that money can buy for kids interested in tennis. You might just see a Paes or Bhupathi come out of here!
TENNIS CENTRE, GYMKHANA GROUNDS SNAPSHOT
Listed In

Address

Telephone

Distance

Sub-Categories

Timings

Weekend Timings

Closed On

Prices

Payment Option(s)

Closest Bus Stop

Closest MMTS Station

Add New Field:
EVENTS AT TENNIS CENTRE, GYMKHANA GROUNDS
There are no events at Tennis Centre, Gymkhana Grounds scheduled currently.
LEAVE A COMMENT
fullhyd.com has 700,000+ monthly visits. Tell Hyderabad what you feel about Tennis Centre, Gymkhana Grounds!