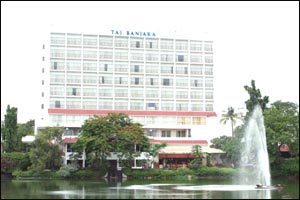 There are three things that come to mind when you think Under Deck - live bands, dancing bartenders and the Long Island Ice Tea. Also, there's a pretty good chance that everybody knows your name.

Under Deck is a cozy little place done up like a ship and it is crowded mostly with regulars, who haven't considered going anywhere else in a long time because right here they have everything they need - familiar faces, good music and, on occasion, a large-screen TV. The bartenders also are a friendly lot, and have quite a few tricks in their bag to keep you entertained - juggling, impromptu jigs and one pretty cool magic routine with a cigarette.

If things get a little cramped, you can take your drink outside to the steps leading down to the artificial lake. Quite a pleasant scene at night.

Another reason that it's popular is the range of drinks here, apart from the aforementioned Ice Tea, there's Blue Lagoon and Black Russian, both highly recommended cocktails. For the teetotalers, there's Dust My Room or the fruit drink Passion Raiser.

More than anything else, you'd pick Under Deck because it's a nice place to just chill.
EVENTS AT UNDERDECK (TAJ BANJARA)
There are no events at Underdeck (Taj Banjara) scheduled currently.
LEAVE A COMMENT
fullhyd.com has 700,000+ monthly visits. Tell Hyderabad what you feel about Underdeck (Taj Banjara)!