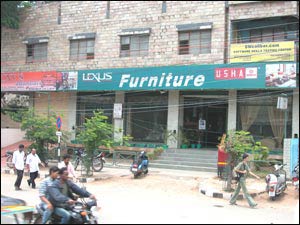 With other much much more stylish options, people might be tempted away from this stubbornly time-warped store. The interiors aren't much to go by, and the service is mild if well-meaning. Sometimes a big brand is a burden to lug around.

The Usha-Lexus showroom, backed by the reputed Usha Shriram Furniture Industries, is good mainly for a few package deals. For e. g., the Manhattan Apartment Package, which for Rs. 64,000 will furnish nearly your entire home: a double bed, two single beds and a sofa set with center-table. The designs are functional, if not sharp.

Considering the brand sponsors the popular Usha Lexus Furniture Design Competition, Usha Lexus doesn't exactly send you over the moon. But it is useful for householders, especially newbies in town, to decorate within a budget.
LEAVE A COMMENT
fullhyd.com has 700,000+ monthly visits. Tell Hyderabad what you feel about Usha Lexus World Class Furniture!