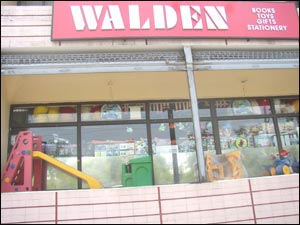 Walden is spread over an area of some 8,000 sq. ft., and the sprawling bookstore has remained virtually unchanged since its inception. Apart from other things, it was also one of the city's first Internet browsing centers. Okay, so it was just one computer, but it was one of the first to go online when the Internet was introduced to Hyderabad. The books have changed, though; apparently that's how a bookstore works.

The selection of fiction at Walden is pretty much in tandem with whatever is on the bestseller list, and the same is true for non-fiction. The store also has its share of books on philosophy, astrology and occult, computers, fitness, sports, wildlife, gardening, leisure, self-help, reference and travel. The poetry section has all the greats, including Poe, Keats, Wordsworth and Burns. The collection of Indian writings is just as good, with quite a few versions of Tagore's Gitanjali.

The one section conspicuous by its presence is Erotica. It's surprising how this one is missing from all the other bookstores. Watch people as they walk past this section stealing surreptitious glances at the books in the futile hope of getting an eyeful. Others look right through the stack as if it's just not there, with the you're-invisible-but-oh-joy-I-can-see-everything look. If you can drag yourself from here or are dragged forcibly, check out the humor section, which is really good.

Wander around a little more, and you'll chance upon the political section - and if that gets a little too stifling, head over to the magazine-pillar and check out some real cool mags. For e. g. the Tattoo Magazine by Skindeep. There's one on guitars with a couple of tab sheets inside. However, two of the best magazines have to be Terroriser and Metal Mayhem, both about rock music's doppelganger, metal music. Expensive, but definitely worth it (and can I please have first dibs on 'em when you do buy them?). There are the other good magazines as well, both Indian and from outside. And several comics including MAD, Tintin, Asterix and even Tinkle.

Walden also has a fair share of music, and games and educational CDs, although the music section is a little dry. And if you're walking backwards, on the way out you will walk straight into the toys section which has tons of stuff for the little ones - action figures and Barbies, plus board games and plenty of other loot for children.

The gift section is very good, and includes some radically bodacious frames and clocks that give a whole new meaning to time. In close quarters is the stationery section for people who want to increase the clutter on their desks with the addition of articles that are supposed to reduce the clutter. Somewhere in all this is the victim of claustrophobia... the cards section.

If the prices seem high, the best time to visit is when they have their two annual discount sales; one in July, when the store celebrates its anniversary, and the other in December, during Christmas.
EVENTS AT WALDEN (GREENLANDS)
There are no events at Walden (Greenlands) scheduled currently.