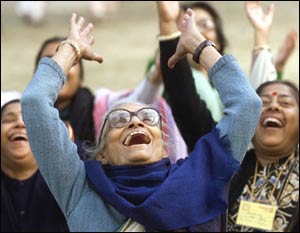 There's one thing to be said for people willing to chortle and snort at nothing in full view of a baffled public: they're good sports. Every morning, the Laughing Club risks amused glances and jibes when they look up at the sky, take a deep breath of clear, fresh air, and erupt in wild, spontaneous laughter. If you saw ten people standing in a circle and doing this, you might be spooked. But aren't you curious to find out what the joke is?

There is none. ABC Laughing Club's meets are perhaps the most serious health activity happening in Indira Park at 6am. This is a group of people so dedicated to preserving their sense of humor, and thereby their sanity, that they happily give up an hour of sleep to practice hasya yoga, a workout for your funny bone.

By stimulating laughter and mirth, you can actually fool those endorphins into doing some overtime, thinks Madan Kataria, the founder of this unique form of exercise. Feel-good chemicals are released in the brain when you laugh, but if you waited around for something funny to happen, you could go a whole day without cracking a smile. Now, isn't that a waste of a day?

So join this group of merry people and take your place in the circle. Each session lasts almost an hour, and consists of warm-up and breathing exercises as well. Then you go through the entire spectrum of delight: from grunts to giggles, from guffaws to cackles, from smirks to grins. Feel free to improvise. The Club consists mostly of people in the age group of 50 and above, and they've all derived very real benefits from their morning ha-ha. Blood pressure has stabilized, stress-levels have been reduced, and the heart is kept happy with this fantastic form of what they say amounts to "internal jogging".

So chuck those inhibitions, and drop in for a visit. Remember this is the only club in town that will forgive you for laughing at its president. After all, he does it too.
EVENTS AT ABC LAUGHING CLUB
There are no events at ABC Laughing Club scheduled currently.