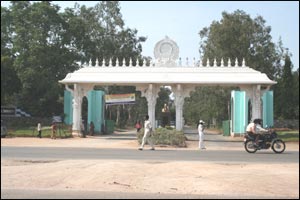 Agriculture - a fancy name for a couple of guys and their bulls sweating it out in the summer sun so that I can sit back at my computer and type this profile out without going hungry. Or maybe not. Let me try again.

Agriculture - the science that will give those guys and their, I'm sure eternally grateful, animals the break they deserve. Yes, that's certainly more like it.

And that is exactly what the A N Ranga Agricultural University, the largest of its kind in India, with an enviable infrastructure of eight teaching campuses located in the 8 climate zones recognised in AP, including colleges of Agriculture, Fishery Science, Veterinary Science, Animal Husbandry and so on, aims to impart education in.

The college runs the World Bank aided Agricultural Human Resource Development (AHRD) project, that allows our future agriculturists to avail themselves of multi-media based learning, the best lab facilities, good hostels, libraries, health facilities and Internet connectivity in all centers. The rural landscape of India is soon to be dotted by agri-nerds of the highest order.

Talking placements, there are too many job openings in this "field" (heh heh!) to worry about proper placements, but all colleges have dedicated placement cells. But more importantly, students in this university have interesting outlets for their energy, and apart from NCC activities, horse-riding, equestrian and some basic military training are taught here. With the naxalite problem in the rural belts, the military training must come in handy, I guess.

There is no shortage of the altruistic ethic in their curriculum, as volunteers undertake technical service to the farmers besides undertaking other activities such as tree plantation, AIDS awareness, blood donation, road laying, literacy, consumer awareness and health camps.

Overall, ANGRAU, ranked in the top two agri-universities since its inception, is the university of first choice among those of its kind in Andhra Pradesh.
LEAVE A COMMENT
fullhyd.com has 700,000+ monthly visits. Tell Hyderabad what you feel about Acharya N G Ranga Agricultural University (ANGRAU)!