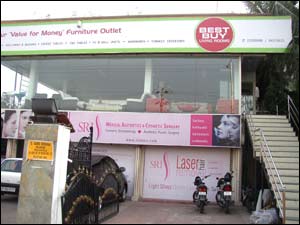 Charity begins at home. And if you fancy a very generous charity for your home, you could step into Best Buy.

Best Buy is a cute furniture store on Banjara Hills Road No. 12. It appears to be one of those bungalows that are converted into showrooms. This air-conditioned store was not very crowded 8 in the evening, giving me a good opportunity to peruse all the items on sale.

A grand double bed made its conspicuous presence felt with some superior craftsmanship - it was very inviting indeed. Having something of this sort in your bedroom will surely make you feel like a king, but buying it will render you a pauper if Rs. 48,000 seems a little too grand. Conservative buyers like this humble reporter will have a few "sleepless" nights after such a purchase.

This hardwood grand double piece is the only bed you'll find in the store. But Best Buy makes up for this dearth with its excesses in sofa sets. It houses an exceptionally good variety for a store of its size.

You can spot a handful of wooden sets with ornate woodwork, and also catering to a wider price range. A couple of others were impressive with their sophisticated leather upholstery, and some other sets were priced quite attractively. A suede sofa set at Rs. 21,000 is a steal - I could sense the urge to pick one up but stopped myself. Sigh - so close yet sofa!

There were two study tables of the old school (with a chair and two drawers) variety, tastefully down to earth in appearance but astronomical in price, at Rs. 15,000 for the full set.

Best Buy also offers you a decent "window shopping" experience. The drapes are reasonably priced, but the variety, or the lack of it, may leave you disappointed.

While the store appears adequately furnished, the sales boys were unable to furnish the details of the items on display. "So is this table made of teakwood?" "Yes Sir!" "What about the sofa?" "Yes Sir?" "Mahogany?" "Yes Sir!"

The best items in the store are the paintings that are smartly placed on walls that face the recliner sofas. The idea is to simulate a living room feel where you enjoy lounging on your recliner with the paintings being the perfect eye candy. I asked the sales boy the price of the paintings, and he replied in his most assertive tone. "Not for sale!"

Yes, money cannot buy everything. But it can certainly get you some good quality bean bags (Rs. 4,500 and Rs. 3,600 each for large and small sizes respectively) and recliner sofas at Best Buy. Although I'd given up on the sales boy, my perseverance got the better of me when I demanded to know the price of the recliner. This question left him stumped as he started investigating the whereabouts of the price tag. On failing to find it, his reply was as literal as it gets: "Priceless." And after much deliberations with his co-workers, "Rs. 19,500 for single seater and Rs. 64,000 for double seater, sir". Priceless, indeed!

Best Buy is probably worth a visit, if you reside in the vicinity of the store. For people who stay outside of Road No. 12, you'll find several options on this very road.