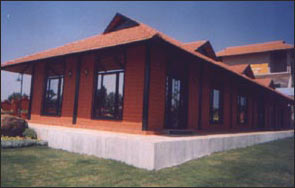 Celebrity Holiday Retreat is a modern comprehensive getaway destination located in tranquil surroundings with lush green trees playing host to golden sunrises and sunsets. The retreat offers a host of entertainment possibilities within its expansive confines, and a great range of indoor as well as outdoor leisure pursuits can be yours here.

Set amid sprawling gardens, trees and breathtaking rock structures, the Retreat boasts of restaurants, outdoor and indoor banqueting facilities, a swimming pool, a spa, a pub, a discotheque, snack bars, and an exclusive sports zone offering go-karting, tennis, badminton, horse-riding and an 18-hole golf course.

The picturesque luxury cottages that are a part of Phase I of the Retreat, cater to a wide variety of preferences. Each unit of the 60-odd cottages is unique in decor and style, and the guests can choose from the Victorian, North-Indian, South-Indian, Japanese or European themes. These cottages, as well as the food and beverages, are available at a discounted price for members. Non-members are also welcome, and the tariffs applicable to them are as follows:

Club Cottages (Individual Bungalows)
Single Room: Rs. 1,800
Double Room: Rs. 2,500
Triple Room: Rs. 3,600

Room
Executive Suite: Rs. 2,000
Luxury Suite: Rs. 2,500
Executive Towers: Rs. 2,500
Twin Bed Premium Suite: Rs. 3,000
Premium Suite: Rs. 3,600
(Taxes are extra; all rates are per night)

So, your pleasure is fortunately not restricted to being a memeber to this club. However, getting a membership is a better idea, as this upcoming Retreat is sooner or later going to have second thoughts about allowing outsiders in.

You can secure a Lifetime Membership for your great grand-children, in addition to for yourself, by making a one-time downpayment of Rs. 75,000. A Permanent Membership entitles you to claims on the services of the Retreat for the next 30 years, provided you pay Rs. 55,000 at the onset, and Rs. 300 per month. A 3-year Temporary Membership will require you to shell out Rs. 25,000 in addition to the monthly Rs. 300.

Celebrity Holiday Retreat is a place where more than the comfort and the taste, you get a chance lose yourself and find peace. Which frankly is not such a bad idea.
EVENTS AT CELEBRITY HOLIDAY RETREAT
There are no events at Celebrity Holiday Retreat scheduled currently.