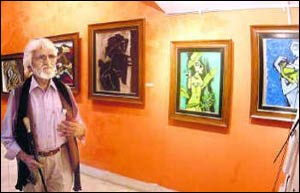 The eye should travel on a canvas, stop and interpret what it sees; the clarity and meanings depend on every individual vision.

M F Husain might have been talking about Cinema Ghar when he said that; nearly every painting here has something new to say even with each viewing. This huge collection of Husain's works, a gallery and museum, has been segregated into various suites, each housing one form of art.

The Delhi, Kolkata and Mumbai suites are on the first floor. In between the Delhi and Kolkata suites, you'll find the books. This library has quite a diverse collection, given the size constraints. With books ranging from theology to the history of Indian cinema, and a couple of them on Van Gogh and Monet, this place is quite a treat. Plop down on one of the beanbags and thumb through the poetry of M F Hussain or one of his big books of paintings.

The Mumbai suite contains some interesting furniture designed by the man, like a table set with a jigsaw puzzle glass-top. The second floor showcases Husain's earlier works. A painting depicting four faces of Nehru highlights the walk upstairs. Another painting that stands out is the one of Gandhi done in oils, circa 1970.

The ground floor houses a mini-theater, Soundarya Talkies, with a seating capacity of 50. Husain's films are sometimes screened here. Then there is the Paris suite, which has paintings, books and a few postcards for sale. Plus, a cosy little cafeteria tucked away in the middle of it all.

Najma Husain, the painter's daughter-in-law, gives guided tours for groups, but only by appointment. The 90-minute tours are on Fridays at 11am and on Sundays at 4pm. You can visit Cinema Ghar Tuesday through Thursday, by appointment, and it's open to the general public from Friday to Sunday.
EVENTS AT CINEMA GHAR (MUSEUM)
There are no events at Cinema Ghar (Museum) scheduled currently.