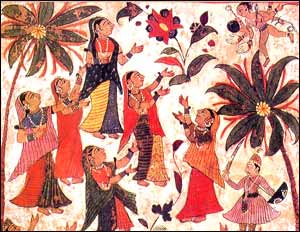 The artist couple Jagdish and Kamala Mittal, to showcase their collection amassed over a period of some 40 years, started the Jagdish And Kamala Mittal Museum Of Indian Art in 1976. The collection of the gallery now (as we write this in 2004) numbers around 1,580 objects, all dated upto 1900AD. Considering that we at fullhyd.com feel that there aren't 1,580 objects on the planet worth collecting, that's a huge number.

The museum specialises in the traditional arts and crafts of India. The collection ranges from manuscripts to metalware, and from arms and armor to jade. They have some 250 drawings that give a deeper insight into the Mughal, Deccani, Rajasthani and Pahari schools of art.

This museum gives its importance to the various painting schools from about 1200AD to the end of the 19th century - schools like the Gujarati, Rajasthani, Sultanate, Mughal, Pahari and the Deccani to name a few.

Several miniatures and drawings from this collection have been reproduced in prestigious books like "Paintings of India" by Basil Gray and Douglas Barrett. "Indian Paintings from the Punjab Hills" by Dr. W G Archer is another such book. A large number of these art objects have also been lent for display at the Festival Of India exhibitions held in London, the US and France.

Even though a public charitable trust was set up in 1976, called the Jagdish and Kamala Mittal Museum of Indian Art, the museum doesn't have a building of its own. However, the art collection has been viewed and enjoyed by many art lovers, scholars and other artists.
LEAVE A COMMENT
fullhyd.com has 700,000+ monthly visits. Tell Hyderabad what you feel about Jagdish And Kamla Mittal Museum Of Indian Art!