Gadwaal Handloom Sari Showroom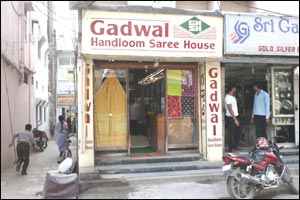 Who was that guy who said that looks don't matter? Whoever he may have been is not important. What matters is that he was not talking about people.

Among the most non-descript of stores, Gadwaal Handloom Sari Showroom houses such a huge range that it immediately makes you question the fundamentals of plasticity - how could so much fit into so little a space? Not that the store is a matchbox. It is just not one of those swanky ones that most of us are used to.

But it is the place to be if you are a nubile young woman about to tie the knot. It stocks Coimbatore, Fancy, Benaras and Pochampally saris with the purest of gold zari, and traditionally embroidered salwar-suits as well. And its wide price range means that more often than not you are going to find something that suits your pocket, not just your liking.

Locating the store might be a slight pain. Even so, it is worth every ounce of effort made in getting there.
GADWAAL HANDLOOM SARI SHOWROOM SNAPSHOT
Listed In

Address

Telephone

Distance

Sub-Categories

Year Started

Timings

Closed On

Prices

Payment Option(s)

Closest Bus Stop

Closest MMTS Station

Add New Field:
EVENTS AT GADWAAL HANDLOOM SARI SHOWROOM
There are no events at Gadwaal Handloom Sari Showroom scheduled currently.
LEAVE A COMMENT
fullhyd.com has 700,000+ monthly visits. Tell Hyderabad what you feel about Gadwaal Handloom Sari Showroom!