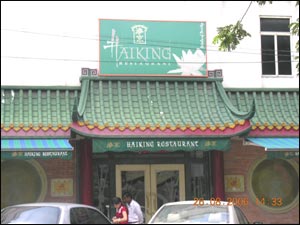 You can't tell by looking at the two places, but Haiking is a sister concern of Alex's Kitchen - sort of a more sophisticated older sister. Where Alex's is basic, Haiking ranks on par with the five-stars. Alex's you go to when you want to grab a quick lunch. Haiking, on the other hand, has a theme, ambience and nifty interiors, all of which will show up on your bill.

The Hyderabadi verdict, though, deems this restaurant absolutely worth it. And as lovely as the ambience and service are, that verdict is based purely on the bottom-line - the food. You'll find some very interesting and unique dishes on the menu, and if you are tempted to experiment, go ahead and do so happily and without fear.

Having said that, though, we must tell you about a few dishes here that have acquired celebrity status with the devoted regulars. These include the Butter-Fried Prawns, the Beijing Onion Cakes (must-must-try) and the Diced Chicken. Try the Meifun or rice-noodles with Kay Chow Tew Si - Chicken In Black Bean sauce, Baby Corn With Buttered Mushrooms, or Ginger Chicken, another specialty of the house. Vegetarians love the spring-rolls and the Chow, With Almonds.

Home-made ice-cream is also served, and two popular frozen desserts here are the Peach Praline Souffle and Chocolate Exotica. Date Pancake And Ice-Cream is another mouth-watering option. A fair-sized restaurant, Haiking fills up quick during lunch-time, weekends, perhaps because it's situated in a bustling commercial area. This is a good place to visit when you have some time on your hands, and maybe some shopping to do later. Good days are made of this.