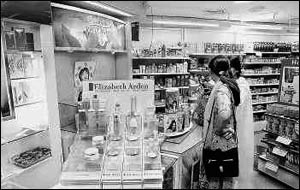 If you are looking for a turnkey solution for your skin-deep worries, then you'll be requiring the services of experts, and loads of money. But if looking good is just your pastime, you have arrived at the right place. For, Health 'N' Glow is a shop where you can choose and experiment with your looks, without drilling a hole in your pocket.

Health 'N' Glow is a well-stocked shop catering to all your beauty requirements. Here you can find herbal brands like Biotique, Shehnaaz, Natural's and Lotus, with a rich line of products including face and body creams, facial masks, anti-aging ointments, scrubs and moisturizers.

Among the few stockists of the French brand Vichy around town, Health 'N' Glow also has a variety of perfumes and deos, including imported brands like Precious Stones. The cosmetic enclosure is rich with counters sporting lipsticks and nail paint, and the foundations and makeup bases of brands like Maybeeline, Lakme and Estee Lauder.

Health 'N' Glow also worries about your baser needs - in addition to the skincare products, discretely stocked are corn-removing implements, nylon bathing scrubs, back scrubbing belts, pumice stones, anti-dandruff shampoos and lotions. There is also an assortment of interesting trivia including hairbrushes, back-clips, rubber bands, and some earrings and necklaces.

The shop is manned by knowledgable personnel from the various brands that adorn the store. An efficient staff guides you across the aisles while the comfortably laid out and well-lit interiors make you feel at ease.

So the next time you feel the urge to revamp yourself, you know the place to be at.