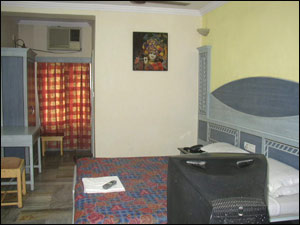 Even in 1992, the year that Hotel Ambassador came into existence, the hotel may have come across as a bit of an anomaly, for two reasons. The first has to do with its construction and decor. While from the outside the building is inconspicuous, on the inside, Hotel Ambassador has subtle touches of the old world, which makes it seem like a building from the yesteryears.

The ceilings in the rooms go a tad higher than the ones in more modern constructions, and the junctions between it and the walls that run below are carved, so that a festoon of leaves runs unbroken, crowning the room as the guest sleeps on the comfortable queen-sized bed below.

The furniture, mostly made of sturdy wood, seems like a throwback to the 80s; the sofa sets that sit in the lobby area of each of the hotel's 4 floors are particularly high-backed. Scenic wallpaper completes the picture and, overall, it is not one that is always easy on the eye.

The second reason Ambassador seems like an anomaly has to do with its tariff card; its room rates are, and always have been, surprisingly low for a hotel that is centrally located in Secunderabad, more specifically at Paradise Circle, the city's most important business district. As per current rates, which have risen by only Rs. 100 from a former revision, a room can be rented here for anything between Rs. 650 to Rs. 1,200, plus 5 per cent tax, for one night.

The rooms on the uppermost floor are the ones on the higher end (but they do not have mini-fridges, like the others); they are more contemporary, as the entire floor was added to the building about 5 years ago. Nevertheless, the rates are what make Hotel Ambassador unique, and truly "affordable", a word that most hotels, irrespective of their star-power, use far too loosely.

In exchange for a relatively small sum at the slightly shabby front desk, you get a lot: a clean room endowed with all routine supplies (bed, bath and beyond); efficient and friendly room service and housekeeping, and a chance to avail yourself of other hotel facilities that cost extra; laundry service and a travel desk among them.

The windows in Ambassador's rooms offer no spectacular views. No restaurant runs from its confines either. Nevertheless, it poses an attractive deal, especially for those who do not want to spend a fortune on their accommodation. It is therefore unsurprising that Hotel Ambassador is popular with families, and students, too.
EVENTS AT HOTEL AMBASSADOR
There are no events at Hotel Ambassador scheduled currently.