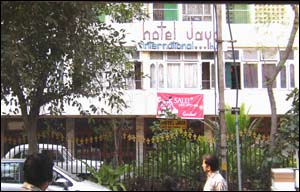 There was a time when Jaya was a star hotel, almost in the top 10 of town. Indeed, appearances belie.

Or maybe they do not. It's tempting to believe that Jaya deserves to be where it has gotten itself today - more of a luxury lodge than a professional hotel. There's only so much benefit of doubt that you can give a hotel the automatic doors of whose lift have to be pried open by a strong person - who's not surprised at the situation at all.

Tell-tale signs of negligence are all over the 5-storeyed property - from the facade itself that looks badly in need of a facelift, to the soiled draperies in the rooms, which are usually the surest distinguisher of mass from class. The house-keeping staff are increasingly poorly trained, resulting in service standards affected badly. And even the front-office staff are dressed very casually and very ordinarily. Like they say, how the mighty have fallen.

The upshot of all this, however, is that Jaya has no option but to charge very modestly, turning into a very tempting proposition where value for money is concerned. An double room with a TV costs Rs. 660 (and single Rs. 550, as we write this in Mar 2008), quite competitive for a hotel this size about a kilometer from the railway station. The rooms are also spacious and neat, with 2 beds, 2 chairs, a dressing table, a luggage rack that can double up as a seating option, and even a balcony (though there's only so much of a view you can expect in the commercial Hanuman Tekdi). A/C rooms are about twice the cost of the non-A/C rooms mentioned above. Check-out time is 24 hours, and a breakfast buffet at Rs. 50 offers 3 South-Indian options each morning.

Jaya International also has a banquet hall, with a party hall and kitchen in tow, that it offers at about Rs. 200 per head (food included), making it a reasonably attractive proposition for middle classes in an area where the history still lends it a halo.

Perhaps Jaya International will regain lost glory, perhaps it won't. The value-for-money most likely means that more people will want it to stay this way. Perhaps it's all's well that ends well.
EVENTS AT HOTEL JAYA INTERNATIONAL
There are no events at Hotel Jaya International scheduled currently.
LEAVE A COMMENT
fullhyd.com has 700,000+ monthly visits. Tell Hyderabad what you feel about Hotel Jaya International!