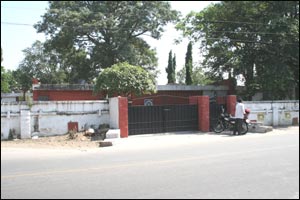 The morning assembly starts with the rendition of Vande Mataram and Jana Gana Mana, and ends with some discussion on the news of the day and a small speech by the "Principal Madam". KVs, in Hyderabad as anywhere else in India, never falter in this ritual. The right start, they believe, is all that is needed to win in life.

And winners they are. At KV Picket, trophies shine in your face - from sports to environment, and from arts to technology, you can see the glorious path that students are treading at this school.

True, the school is slightly biased towards extra-curricular activities - with facilities for table tennis, basketball, hockey, volleyball, handball and athletics. The girls too are equally involved in the mill-run. A fact that enabled the 12-year-old Nikhat Banu from the school to win the National Sub-Junior Under-15 Table Tennis Competition held in 2003.

The students are encouraged to excel academically, too, with some of the most perfectionist teachers to ensure it. The teaching staff, drawn from the pool of vocally powerful women and some stern men, are well-versed in the art of discipline, and do not give way to fancy child psychology jargon.

Schools condescending enough to take your child in mid-term are a blessing undisguised, and KV Picket is sympathetic to government employees' and armymen's moving needs. The fee structure too is reasonable, at tuition fees between Rs. 710 and Rs. 990 per annum for boys, and even lesser for girls. The children of staff, SC/ST students, and girls are exempted from paying the tuition fees. The admissions are through an entrance test and an interview.

Spacious and cheerful classrooms, massive playing fields, and a lot of emphasis on going beyond books - KV Picket guarantees a robust, healthy and competitive childhood for your wards.
EVENTS AT KENDRIYA VIDYALAYA
There are no events at Kendriya Vidyalaya scheduled currently.