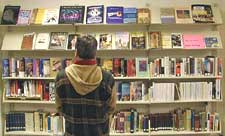 Some libraries, like some bookstores, move with the times. Others clutch on nostalgically to their vast collections, now condemned forever to dust. We have a weakness for this second category, but you can't deny that the first one makes loads more business sense (if you care about that sort of thing). Knowledge Port is definitely category two, with its wide range of popular fiction, popular management and popular children's books. Plus, if it's been on a best-seller list in the past one year, you'll find it here.

Fiction occupies pride of place with an entire bookcase crammed with the latest and greatest by Robin Cook, Jackie Collins, Frederick Forsythe, Dean Koontz and Robert Ludlum. KP has what's probably one of the largest collections of Stephen King thrillers. Danielle Steele and a small paperback collection of Silhouettes are left to fill up the romance quota.

There's a little more variety for children, in the form of picture books, encyclopedias and classics. KP also has a frankly impressive lot of William Brown's adventures, not to mention a decent number of Wodehouses and several comics.

KP offers its members the facility of borrowing books on the phone or through the 'net, and hosting seminars and talks on the library premises. This focus on things business-related is reflected in KP's management section, which consists of major gyan from the most current crop of experts.

All the titles the library houses, along with their availability status, are listed on www.kplib.com. It's a little disconcerting to replace the beloved old librarian with a mouse and cursor, but at least you won't get stared at murderously for not returning a book on time. Technology, we'll admit, has its uses.
EVENTS AT KNOWLEDGE PORT (CLOSED)
There are no events at Knowledge Port (Closed) scheduled currently.
LEAVE A COMMENT
fullhyd.com has 700,000+ monthly visits. Tell Hyderabad what you feel about Knowledge Port (Closed)!