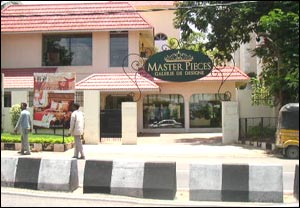 A decidedly upmarket and an unabashedly non-IT-salary-friendly place, Master Pieces is the latest "South Bombay" store to deign to open an outlet here. Located in posh Banjara Hills, the shop's 5,000 sq. ft. floor space is littered with classical furniture that strangely is not pretentious.

A basic design tenet - form follows function - is closely observed, and yet, while the individual pieces are severely ornate, they are hardly overpowering. Of course, you must also then belong to the category of people who will buy a single chair for Rs. 25,000.

The "show-house", which is what such an outlet is called, displays Burma teak furniture, upholstery fabrics from Ireland and artifacts from all over the world, and stocks something rarely found in Hyderabad - wallpapers. The relevant price range would be from Rs. 15,000 to Rs. 5 lakhs, but you could pick up a Rs. 500 candle in case you must have something from here, and do not have pockets deep enough.

Besides wallpaper, you could also find chaise lounges, roll-top desks, recliners and wingback chairs from another more relaxed era, where lifestyles were not merely functional. And the Couture Boudoir collection is not quite the generic cookie-cutter rubber wood bedroom that you get for Rs. 9,999. Yes, Master Pieces is certainly not your everyday fare that is meant for everybody.