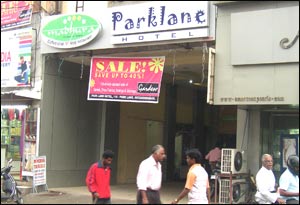 A 30-year-old establishment with a name evocative of our Colonial past, Parklane has seen the twin cities grow into distinctly individual adults. Located a mere kilometer from the Secunderabad Railway Station and 2km from the Begumpet Airport, it makes for easy access at the very least.

While the lobby is sorely in need of a face-lift and a couple of bright lights, the gloom dispels as one moves to the higher floors. In fact, the higher floors, where the banquet hall and the rooms are situated, are distinctly bright and airy.

With French windows at the landings, and speckled tiles you can still find in those older houses, the air is decidedly institutional. In fact most of the clientele that stays here comprises officers from quasi-government organizations like BHEL and HAL, anyway. Of course, they do entertain Satyamites and others of their ilk as well - but in these IT-ridden times, who doesn't?

While the place looks and feels older, and a little tattered around the edges, it is impeccably clean - or maybe speckled tiles just have that 'swabbed-clean' appearance. Be that as it may, the hotel stills give you the bang for your buck with its round the clock check-out, which in parlance means you will be billed for the 24 hours you stay here, not at some pre-determined check-out time. Very fair, you would say.

And their vegetarian restaurant and coffee shop, Madhura, across the drive from the lobby, and a travel desk for your sightseeing and travel needs, make this place even more convenient.

With the current economic boom keeping almost all the hotels in the city's business districts on their toes, you would be forewarned to make advance reservations here if a visit to Hyderabad is in the offing.
LEAVE A COMMENT
fullhyd.com has 700,000+ monthly visits. Tell Hyderabad what you feel about Parklane Hotel (S D Road)!