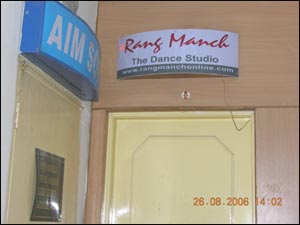 If dancing for you is a lifestyle and not just an output of intra-pub inebriation, it's absolutely certain that you'll be in need of professional help to make you do all the hard work. Rang Manch is the ideal stomping ground for all the eager artists-in-the-making.

The duo behind Rang Manch, Manish (an ex-model) and Ambika (a Kathak dancer), have spent years honing their skills. Together, this husband-wife pair will introduce you to the discipline and rhythm of jazz-fusion, salsa and hip-hop. Your dance steps will be micromanaged down to the nanosecond to give you a taste of the perfection that makes ballet or even party dance a treat.

Teaming up with student-turned-instructer Muddassir Khan, Manish and Ambika conduct batches including:

Seniors (above 25 years): Rs. 1,000 per month
Juniors (14 - 25 years): Rs. 700 per month
Sub-juniors (upto 3 years): Rs. 700 per month

Separate batches for ladies are also conducted. These include fitness training, aerobics, dance, and dance exercises, that are specifically designed for women.

In addition to participating in the monthly classes, you can also become a member of the Rang Manch dance school. It is especially beneficial as you then get a chance to shake a leg on dandia, garba, Bhangra and Rajasthani folk tunes, courtesy the special camps that Rang Manch conducts throughout the year.

Manish and Ambika also take up contracts for conducting corporate, social and cultural events, for which they provide professional talent, and overall event management.

Uniting funk fitness with dance, Rang Manch professes to liberate the latent energies of dancers and aspirants alike. Here, it is imperative that you have a good time - technique comes second.
EVENTS AT RANG MANCH (DANCE SCHOOLS)
There are no events at Rang Manch (Dance Schools) scheduled currently.
LEAVE A COMMENT
fullhyd.com has 700,000+ monthly visits. Tell Hyderabad what you feel about Rang Manch (Dance Schools)!