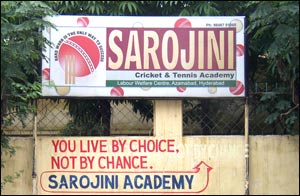 I am a great believer in luck; the harder I work, the more I have of it, said Stephen Leacock. This is one of many motivational quotations that greet you as you enter the gates of one of Hyderabad's top sports training centers for youth.

Sarojini Cricket and Fitness Academy, 35 years strong, still retains its original location and modest edifice. It's easy to be misled by the dated building marked Labor Welfare Center, Azamabad, whose walls are painted with many an inspiring excerpt. The adjoining structure bears the foundation stone that tells you that it is called Evans Cottage, and was donated by M/s Bio Evans, Ltd., in 1971.

Once you get past the dull exterior, and go by a wall lined with newspapers cut-outs from the past few decades, each recounting the achievements of the Academy since its inception, the sight of vast open land, consisting of 2 tennis courts and 1 cricket ground, covered with lush dew-touched grass, takes your breath away. Who would have thought that in a part of the city crowded with industries and workers' unions, a lung space of this proportion would exist so tranquil and untouched?

But it wasn't always like this, as told by the manager, G Kiran Reddy, who salvaged the ground from a local dump-yard and car park, systematically cleaned and planted it with Calcutta Dube grass, and made provisions for recycling of running water. Indeed, it takes not only determination but a force drawn from within to attain what Reddy has done over the past few decades.

A former national volleyball champion, and a hard-hitting spiker, Reddy is an M Tech, and with the APSRTC. He believes in good old-styled rigorous training, and the boys who attend the Academy, aged between 10 and 15, are put through scrupulous exercise everyday. The results are not invisible. SCAFA students have been champions in the India TVS Ratnam Cricket Tournaments for 3 years in a row, in both the under-12 and under-14 categories.

The Academy has many other laurels to its credit. At the moment (July 2006), there are 250 boys attending from different schools. They are offered cricket and tennis training, as well as fitness training in the form of sprints, hand-walks etc. The fees are priced modestly, going as low as Rs. 150 to accommodate workers' children. In a society that encourages academics above anything else, this is an audacious and much-needed effort.

Reddy believes in mental health along with physical well-being. The boys are also put through religious discourses, time-management and personality development classes. They are encouraged to perform charitable acts by visiting homes for the aged from time to time.

Since its inception, SCAFA has certainly come a long way. It has held many charity events, and holds a variety of trophies on the stage overlooking the ground. It has been visited by dignitaries in the sports arena, including the likes of V V S Laxman. It has transformed itself from a breeding ground for flies to a training ground for talent.

With all the trials and tribulations it has been through, another saying on the ground boundary wall of the Academy rings true: "All things are difficult before they become easy."
LEAVE A COMMENT
fullhyd.com has 700,000+ monthly visits. Tell Hyderabad what you feel about Sarojini Cricket & Fitness Academy (SCAFA) - Sports Coaching!